We know it's the 'end of the week' (not midweek) but we just had to share our news.
Snobal and industry partner JB Hunter yesterday took out the LearnX Live! Virtual Summit & Awards Show Platinium Award for "Best Virtual Reality (VR) Hard Skills Training Project" and a Gold Award for "Best use of Technology in Learning" for our work on development of innovative virtual reality training.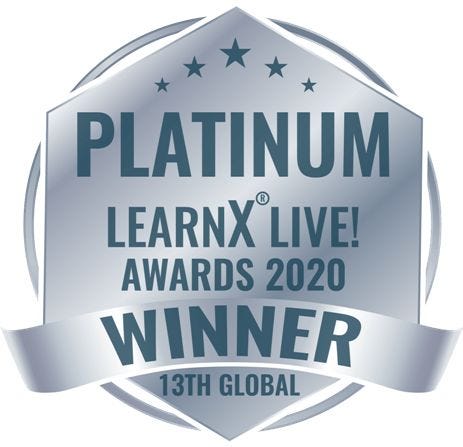 Sponsored by Totara and Androgogic, LearnX Live! 2020 Virtual Summit and Awards Show, recognises those leading the way in the future of learning, covering everything from learning technology to e-learning design.
The international awards recognises multiple fields within learning, development and talent management across the corporate, education and public-service sectors worldwide.
Current and past award recipients include a 'who's who' of global and Australian brands including: AFL, Alfred Health, ANZ, Cotton On Group, BUPA, Coles, FortyWinks, McDonalds, Sydney Water, Volkswagen, Westpac, PepsiCo, Specsavers, NBN and Monash University.
In case you missed it
In the early hours of yesterday Facebook Connect happened. The annual event is positioned as the "biggest AR/VR conversation of the year" and articulates Facebook's focus and vision for Facebook Reality Labs as well as their work in virtual reality (VR) and augmented reality (AR) for the coming year.
Our key takeaways:
Facebook partners with eyewear manufacturer, EssilorLuxottica for next generation of smart glasses

Mark Zuckerberg spoke about Facebook's vision to develop "normal size" glasses that you can "wear all day" or even not "have to carry your phone around at all".
"We are especially proud of our collaboration with Facebook, which projects an iconic brand like Ray-Ban into an increasingly digital and social future.
– Rocco Basilico, Chief Wearables Officer at Luxottica
Zuckerberg then went onto share details on 'Project Aria', which is about building Faceboook's first consumer AR glasses.
There was acknowledgement that there is no product details to share at the moment just news that Facebook and eyewear EssilorLuxottica (owner of Ray Ban brand) have formed a "multi-year partnership" with glasses scheduled to released "next year".
"VR is going to change work"
Zuckerberg also set Facebook's vision for VR and the company's focus in the space for the year ahead.
The Quest headset was conveyed as the best "VR gaming platform".
Zuckerberg spoke about their new wireless headset, Quest 2 conveying it as the headset that "is going to be the "form factor to introduce people to VR" and with a vision of making it available to "as many people as possible". Part of making the hardware more available is a price reduction from the original Quest.
Zuckerberg also touched on "how VR is going to change work" that current virtual collaboration tools allowed "no shared sense of space" as everything looks "flat".
Other news catching our attention
Apparently some bosses are determined to people into the "physical office"
A Wired article this week shares how companies like financial technology, media, and data company Bloomberg are offering incentives such as a daily allowance, in Bloomberg's case reportedly $75 (£55) to cover out-of-pocket transportation costs when commuting. The aim? To get employees back into the 'physical' office. This leads us to ask what role will 'virtual offices' and immersive collaborative workspace solutions like Snobal Spaces play in all this?
Like Snobal Midweek? | Signup to receive your copy delivered direct to your inbox each week.
ABOUT
This article first appeared in Snobal Midweek.
Signup to receive your copy delivered direct to your inbox each week.
DATE:
18 September 2020